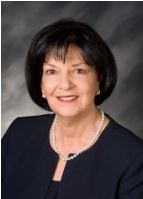 When asked for a Pearl of Wisdom, Nancy L. Merolla shares, "If you ever run into someone who isn't smiling, give them one of yours. It will make a difference." Nancy has been doing just that her entire life –giving a smile and making a difference.
Nancy is an accomplished leader with a proven record of success in administering both public and private non-profit organizations serving the community's needs. With over 30 years in the banking industry, she's held such diverse positions as Vice President CRA Manager for Comerica Bank; Vice President, Branch Management for Glendale Federal; and Vice President, Statewide Non-Profit Relationship Manager for BankAtlantic.
Her work with non-profits includes serving as President and CEO of Broward Housing Solutions, working with the Broward Partnership for the Homeless and The Starting Place, Inc., and in 2009, she was appointed Circuit Administrator of the Florida Department of Children and Families for Broward County by Secretary George Sheldon.
Since 2012, Nancy has served as Vice President, Community Reinvestment Officer of Florida Community Bank (FCB), focusing on the Bank's community reinvestment activities throughout Florida.
Because of her leadership, passion, performance and innovation, Nancy was named as one of the South Florida Business Journal's Influential Business Women of 2017. "I was humbled to be nominated by Florida Community Bank and truly honored to be the recipient of this award," she says. "Florida Community Bank continues to support our communities and gives employees a chance to contribute both personally and professionally. I currently serve on twelve boards and advisory councils as part of my community commitment through my role as CRA Officer for Florida Community Bank."
In 2017, Nancy became a founding member of the AAA Scholarship Foundation Bank Advisory Board. FCB also participates with AAA Scholarship Foundation (AAA) through the Florida Tax Credit Scholarship Program. FCB's contributions to AAA over the past two years have provided close to 75 educational scholarships to low-income Florida children.
"It's always been a true passion of mine to work with nonprofits. The AAA Scholarship Foundation understood the importance of supporting the communities around us, and this partnership was all-in-all a 'win-win' for me."