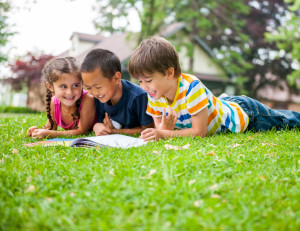 Summer is supposed to be a time full of fun with family and friends! But the school year tends to creep up quickly and sometimes, it's easy to forget some of the skills we gained the previous year. To avoid losing any knowledge, it's important to keep your brain working, and reading is a great way to give your brain some exercise! With a good book in hand, the rest of summer can be fun and relaxing, and no matter what age your child is, they can learn and have fun.
Kindergarten Reads: When the hot summer days become unbearable, hang out inside with your little ones and cool down with the book, Ice Cream Summer! Author Peter Sis has written an adorable, humorous, short story for kids around ages five or six. With colorful illustrations, this book focuses on family, learning, and of course ice cream and summertime! This youthful story teaches kids that learning can be made fun with a touch of your favorite things and your imagination. So grab the carton of ice cream and dive into a great book with Ice Cream Summer.
Elementary Reads: Bring some humor to your summer, with the N. Griffin book, Smashie McPerter and the Mystery of Room 11.This mystery read may be the perfect story to keep your little ones entertained (and learning) all summer! What seems like a perfect classroom, in this book, turns out to be quite an abnormal place. Take a trip with Smashie and her best friend as they try to solve the mysteries that are causing the craziness in room 11.
Author Dianna Hutts Aston has a series of children books, for your lower-elementary student, that will keep them busy and using their imagination all summer! Her newest addition to her series is A Nest Is Noisy. This story is all about animals and their nests, teaching kids about nature with words and colorful illustrations. With a poetic tone, this book is one of many that can spark the imagination of your child, all while teaching them about creatures of the world!  A Butterfly is Patient, An Egg is Quiet, and A Rock Is Lively, are a few other books of Aston's that may be fun for your young reader and just might inspire them to get outside and explore nature first hand.
Fifth Grade Reads: Gone Crazy in Alabama is a story of three Brooklyn sisters who travel south for the summer — and it's a really interesting read for a fifth-grade reader! A story of exploration, learning, and family, Rita Williams-Garcia's book has won the hearts of many young girls. Through tragedy and family craziness, the sisters learn about family bonds that are both broken and repaired.
Linda Mullaly Hunt has a great read for kids finishing or about to enter fifth grade. Fish in a Tree has a special way of connecting with any child who has been left out or felt that they had something wrong with them because of their differences. The main character, Ally, is nothing short of a troublemaker. She is constantly causing chaos in the classroom, often in an effort to hide a secret. As she and her family make another move to a new home, Ally's new teacher helps her to accept herself for who she is and manage her struggle with dyslexia. This book helps teach acceptance, courage, and confidence, and is a great read for kids around age ten and eleven.
Middle School Reads: While you and your children may have already seen these books recreated for the big screen, it's never too late to pick up the first installment of The Hunger Games and experience this young adult series as the author intended. Katniss Everdeen's journey to becoming a courageous woman is even more valiant in the book and this read is perfect for both boys and girls!
The Diary of a Young Girl is a story about a girl Anne Frank who lived during the time of the Holocaust. This story is a compilation of 13-year-old Frank's, thoughts and experiences from this time she was faced with hunger, deprivation, restlessness and fear. This book will give your child a look into what life was like for Frank and others in the early 1940's when Nazi's occupied Holland. Besides, this book is likely to become assigned reading, so why not let your kids get a head start this summer!
High School Reads: New York Times bestseller The Secret Life of Bees, has been the talk of the town when it comes to high school reading. Focusing on love, family, and divine female power, this story captures the hearts of girls as it leads you on a journey to South Carolina with a young girl and her stand-in mother. Set in the 1960's, segregation was extremely present in the South. Take a look at how women move beyond racial segregation and love one another for the women they are on the inside. True adventures can teach many lessons, and many are taught through this award-winning novel.
One last great pick for your high school student would be Avi's Nothing but Truth. The main character, Phillip Malloy, explores freedom and respect as he attempts to switch teachers. He soon finds himself as the focus of a national crisis, all after humming during the National Anthem. Find out more about Phillip's quest for freedom with this read!
Reading might not be on the top of your children's to-do list this summer, but these books just might help change their mind. It's never too late to dive into a good book, so the next time a summer storm is keeping your kids indoors, try encouraging them to pick up one of these books and get lost in the wonder of reading!