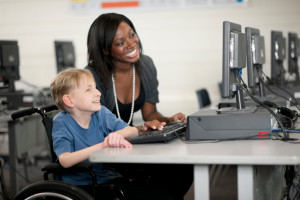 Ten years ago, Lexie Weck, an Arizona 14-year-old living with autism, cerebral palsy and mental retardation, was enrolled in a public school that didn't have the resources necessary to meet her physical or educational needs. "Basically, they were offering not-great babysitting," said Lexie's mother, Andrea Weck Robertson. Unable to afford the high cost of tuition to a private school that could support Lexie's needs, Andrea was inspired to make a change.
Fast forward 10 years and Lexie is now enrolled in a private school that teaches kids with disabilities and has the resources to better meet their needs. Even though she is non-verbal, she is now able to communicate through an iPad and sign language. This was made possible through the Arizona Disabled-Displaced Scholarship program, also known as Lexie's Law – in honor of Lexie herself! Andrea's dedication to helping families in a similar situation as hers is was lead to the passing of Lexie's Law in 2009. Since then, the scholarship program has helped hundreds of children with physical, mental and educational disabilities, and even children in Arizona's foster care program.
The law, which expanded on Arizona's existing scholarship program, allows corporations to donate funds to nonprofit, school-tuition organizations that provide school choice scholarships, in turn, these businesses receive a tax credit for that donation. This year, small businesses were given the opportunity to donate and receive tax credits as well, and many think this expansion to small business donations is what lead to this years' increase in donations. With 13 of the 28 total donations coming from small businesses, the program reached its maximum of $5 million in donations within weeks of the fiscal year!
"I feel very proud and very grateful to help other families that need the scholarships to be able to change their lives as much as it changed my daughter's life," Andrea said. Lexie and her Mom dedicate time each year to speaking with families about the scholarship program. They want families to be aware that they not only have the right to choose, but they have the opportunity to as well. A lot of families do not know that there are resources to get their child out of public school and into a place that is better suited for their needs; there is money available.
Since 2012, the AAA Scholarship Foundation has worked with schools and families in Arizona to help distribute scholarships, giving children, with disabilities, the opportunity to receive an education best suited for their needs. This year, with funding coming in from multiple sources, and at a record pace, AAA Scholarship Foundation is happy to have the opportunity to help more families than ever before. If you or someone you know could potentially benefit from the Arizona Disabled-Displaced scholarship program, please fill out our application to see if we can help!
For more information on how our scholarship foundation is helping low-income families and those with children experiencing learning disabilities, or physical disabilities in Florida, Georgia, Arizona, Alabama, Pennsylvania and Nevada, visit our website.